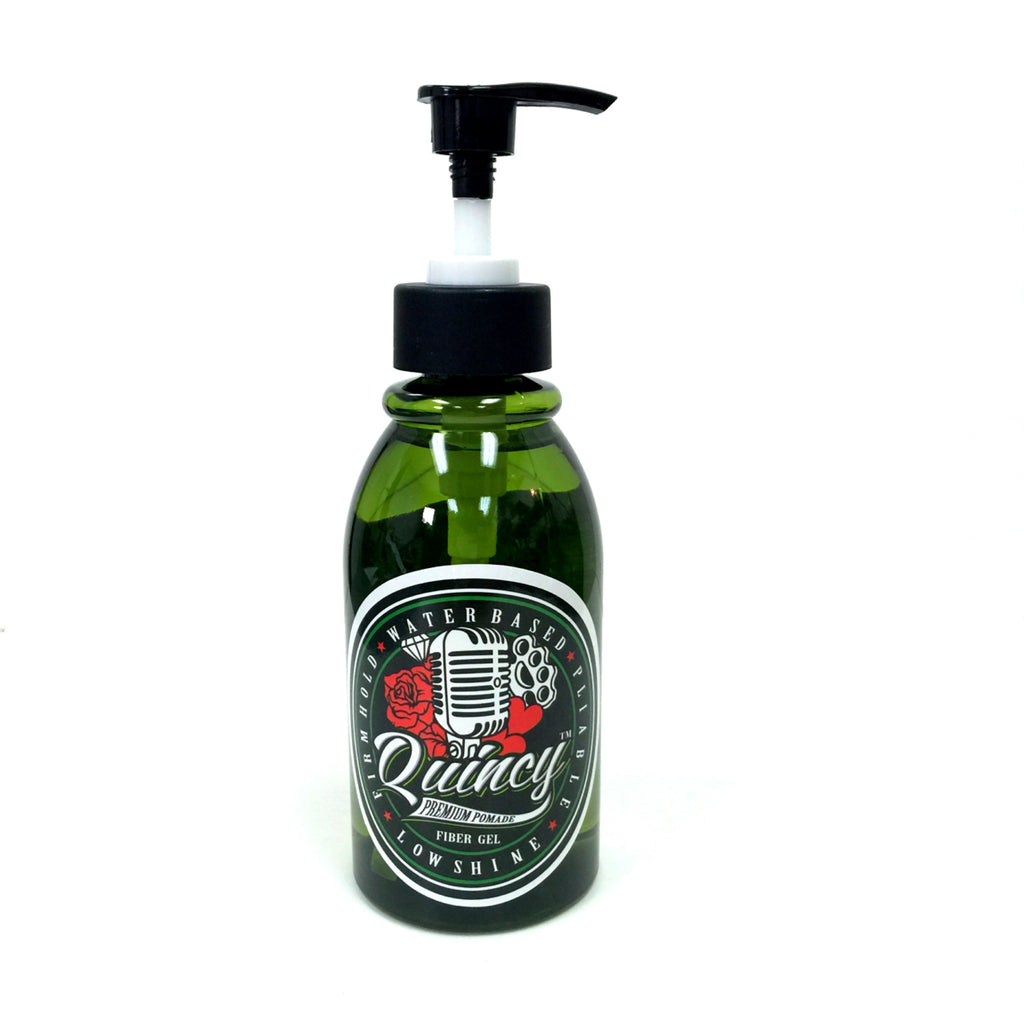 QUINCY FIBER GEL 260ML ARGAN JOJOBA OIL VITAMIN PRO B5
Strength      
Shine           
Control        
Washability  
QUINCY FIBER GEL
-Modern advanced hair gel
-No flaking, or crunchiness
-Low Shine
-Firm, Yet Pliable
-Infused with Argan, Jojoba Oil, Vitamin Pro B5
-Styles short to medium length hair
-Water-based
-260ml, 8.8 Fl. Oz.

This is Quincy's most interesting new product in 2018 for the regular range. When the concept was first raised almost a year ago, the call was to create a product that was easy to use, water soluble, not too over-powering in terms of strength, pliable, low shine and capable of being used as a prestyler. We shut off the "pomade" camp for this project in order to keep the concept fresh. Indeed, a throwback retro styling product was brought back to life.

Hair Gels were the "go to" hair styling products in the 1980s-90s and even till today. It was strong, shiny and very easy to use. However, there are some aspects that some people did not like. Oiliness, too stiff and hair was crunchy. These 3 words are not at all found in Quincy's Fiber Gel. Hours and hours of research went by, as the samples were tweaked and re-tweaked to perfection.

Most suited for short to medium hair lengths, fine or thick hair is ok (thick hair just use more pumps). You can use it on dry or wet hair. You can achieve more shine and definition on wet hair. On dry hair, it creates texture and medium to firm holding without much shine at all. On wet hair and blown to shape and height, it is fantastic as a prestyler as texture and bouncy volume is created. Hair can be reshaped any time of the day, with or without water. Such a light weight, non-oily, medium to firm strength and easy to use product is a dream. Be sure to give this product a try and it will take you back on a nostalgic trip down memory lane.

Scent-wise, we aimed to create something that was appealing across the board, all ages. So finally, the end result can be described as floral-fresh, mildy sweet summer fruit yogurt. Highly addictive, be warned.
Quincy Cares
Quincy Premium Pomade family of products are known over the years for the reliability and high quality along with a classy packaging style. The brand also takes pride in creating balanced and enjoyable hair styling products that not only make you look good but cares for your hair and scalp. 
Made with premium raw materials in professional laboratories, you can be assured of safety while you style and nourish your hair with a peace of mind. All hair styling products are easily washed off with one shampoo rinse, leaving no residue, allowing your scalp to rest and repair efficiently.
Thank you for choosing a Quincy product. 
Customers' Reviews
"I grew up using hair gel, first spiking my hair as a teen and later slicking to the side or back when I had longer hair. What I hated was the fact that my hair became hard and crunchy and is not restylable. Quincy Fiber Gel is totally easy to use, keeps my hair in place and is restylable any time, without effort"

- Benedict, Baker, Los Angeles USA

"Loving the scent and I guess I am addicted to how easy it is to apply to my semi wet hair daily and combing my side part. Not oily at all. it also does not give me oily scalp and forehead"- Mohd B Sul.,

 Despatch rider

, Indonesia
"Great value for this bottle of joy I share with my dad and brother. My dad used to apply cream which makes his head so shiny and oily. My brother used oil based pomade which is ridiculously hard to wash away. Now with Quincy Fiber Gel, styling is a breeze"- Clarence ,

 Student,

 Hong Kong
---
Share this Product
---
More from this collection